Love Island coming to an emotional end on Monday night has got me itching for a holiday to cure my post-villa blues. Anyone else feeling the same? Jetting off to an island in the sun may be your ideal holiday on paper, but if you've spent a little too much this year on nights out, new clothes and your Netflix subscription, you may be looking at holidaying a little bit closer to home. That's where Wowcher comes in to give you your best idea of 2017: A glamping trip! With August just around the corner, it's the perfect time of year to grab your buddies, some beers and a big ol' tent and wander off into the wilderness. And with our brilliant camping equipment deals, you can enjoy a luxury experience for less – so check out our list of ways to turn a casual camping trip into a glorious glamping trip with just a few extra treats and trinkets! Hold on tight, cos it's going to be in-tents…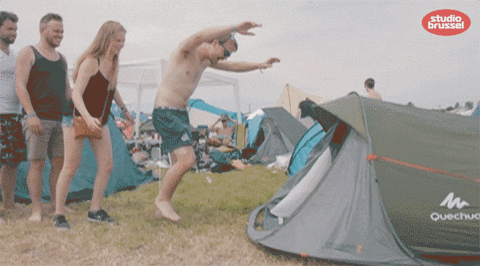 Unless you want to wake up with creepy crawlies setting up shop in your sleeping bag, you can't go camping – let alone glamping – without a tent, and you don't have to break the bank to get one. This six-person tent has three bedrooms with a communal porch area, ideal for parties with your pals. Or, if you'd like a more authentic glamping experience, this teepee tent sleeps four and features a single pole, making pitching a breeze. Plus, there's nothing like a teepee design for true 1970s hippie realness! Of course, you can't forget to furnish your new home – sitting and sleeping on the cold, hard floor may seem you're living the hardcore, Bear Grylls-style life, but is it really glam-ping? This folding camping chair will make you feel like a queen in your nylon castle, and even has a drinks holder for your (hopefully semi-cold) can of Kopparberg!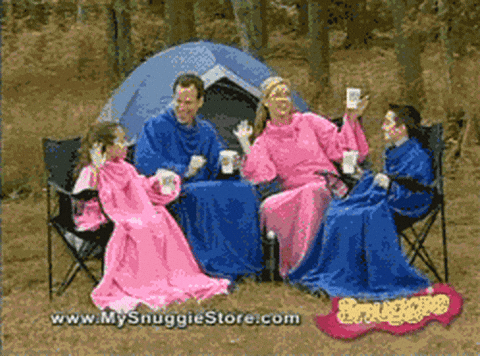 Next, you're going to need something to eat, and unfortunately a £3 meal deal just won't cut it. If you're going off grid for a few days – and you don't fancy directing a pizza delivery driver through the forest – you're going to need something to cook on. For quick meals, this camping stove works just like your hob at home, and comes with butane canisters so you'll never be short for gas. Simply turn it on, throw some baked beans in a pan, and off you go! Or, if you prefer a bit of grilling, this portable BBQ folds flat and fits into a handy carry case, making it ideal for a glamping trip. Grilled halloumi, anyone?
If you're camping far from your car, or if you're looking to pimp your plot at the next summer festival, you're going to need a way to transport all your extra bits and bobs without looking like this guy:
One way of lugging your stuff from A to B without developing chronic back pain is getting yourself some wheels. This heavy duty trolley has huge wheels so it can battle through that tricky festival terrain, and carries 350kg. Pack it up with a tent, booze, or your festival wardrobe (whichever is heavier!)
If there's one thing that separates camping from glamping, it's the detail. Bunting, rugs, blankets and fairy lights will get your tent looking Instagram-ready, whilst this waterproof solar power bank will keep your technology topped up 'til you go home. And don't forget about the exterior – these solar post lights would look awesome surrounding your tent – and would also stop you tripping over those pesky guy-ropes! Other fun and fabulous things to scatter all in and around your tent include cushions, wall hangings, LED lanterns, fake flowers, feather boas, jewels, framed paintings, Fabergé eggs – be as ridiculously glamorous as you want! This is <i>glam</i>ping, remember.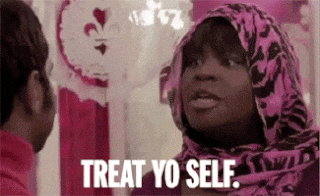 Lastly, if you're planning on leaving your technology at home and going fully off-grid, you'll need some old fashioned entertainment! And because you're in the great big outdoors, you've got the space to go a bit silly with it – go ahead and get yourself a giant inflatable bowling set, guaranteed to leave your friends bowled over with excitement. Or, why not really push the boat out and go for this 16ft inflatable slip and slide with sprinkler, to turn your humble little camping trip into the ultimate splash fest!
Or, of course, just give up all the glamour and do it like Ozzy:
Happy glamping, folks!
Please note that all deals featured may not be live.